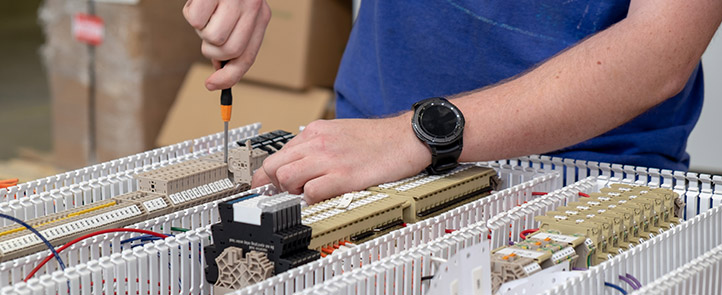 Standard manufactured units are ready to ship. Get the products you need faster. Professionally designed, customized to spec and always delivered on time.

Our team of professionals will assist with developing a solution to meet all required specifications for the client. Our experienced panel technicians will provide first-class quality craftsmanship in the fabrication of the control panel.
Having an expert installation team complements fabrication by:
Confidence in our assemblies.
Decreasing Functionality Testing Costs.
High quality equipment arriving at your client's site on time and ready to be commissioned.
Increasing installation efficiencies.
Reducing maintenance requirements and downtime
Panels are built to comply with all applicable domestic or international regulations:
Industrial Control Panels. (UL-508A : 2013 Ed.2 + R31 Jul2017)
Industrial Control Panels. (CSA C22.2 No. 14:2013 Ed.12)
Non incentive Electrical For Use In Class 1 & 2, Divisions 2 & Class 3, Divisions 1 & 2 Hazardous (Classified) Locations. (ISA 12. 12.01 : 2015)
Non incentive Electrical for Use in Class I & II, Divisions 2 & Class III, Divisions 1 & 2 Hazardous (Classified) Locations. (CSA 22.2 #2, 213 : 2016 Ed.2)
Standard manufactured products readily available for same day delivery:
Combination Starters (Type 12 & 3R), 480VAC or 600VAC:
5KV and 1KV Splitter Panels.
Solar Power Panels & Packages.
15,000 sq. ft.  Of Panel Manufacturing Space To Accommodate Larger Control System Packages.